VOYAGER 960 CABIN
Specyfikacja techniczna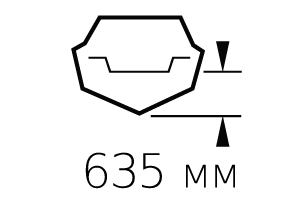 Transom 635 mm (X)
| | |
| --- | --- |
| Kadłub aluminiowy, grubość dna/burt, mm | 5/4 |
| Długość, m | 9,58 |
| Szerokość, m | 2,99 |
| Bordhöjd på mittskeppslinje, m | 1,5 |
| Kąt kadłuba na transomie | 18 |
| Wysokość pawęży | 0,635 |
| Moc maksymalna, KM | 700 |
| Waga, kg | 2750 |
| Pojemność, kg | 2112 |
| Max. Załoga | 10 |
| Stały zbiornik paliwa | 700 |
| Typ silnika | Zaburtowy |
Wyposażenie
Pokład

Aluminium hull

Metal thickness on the bottom 5 mm, on the sides 4 mm

Power-V-Frame inner structure

Double side welded body - DSW

Vibration and sound insulation of the hull

Powerful stem

Bow eye

Heavy Fender

Bow aluminum railings

Roof aluminium railings

Bow thruster

Place for bow and aft electric winches

Welded mooring cleats, 6 pcs.

Finishing of the bow and aft decks with aluminum anti-slip pads, quintet

Visor for installing additional equipment in the stern

Self-draining aft deck

Left locker-stage for mooring equipment

Cross locker in aft bulkhead with coamings

Aft locker-stage on the left side with place for installing a winch

Aft locker-stage on the right side with a niche for the battery

Two stern lockers in the area of bathing platforms

Stern oversized platforms

Aft stainless ladder stainless under the crinoline

Enlarged transom platforms for installing transom plates, sensors, etc.

Anodes for hull

Decorative pasting of the board (color - black)

Control and engine

Step-locker on the right side for mooring equipment

Hydraulic steering system for one engine

Premium steering wheel

Fuel system

Integrated fuel tank 700 l for main engines

Fuel hoses

Fuel level sensor

Filler neck 38 mm

Fuel tank vent

Niches for the installation of fuel separator

Integrated fuel tank 30 l for autonomous heater

Kabina

Marine hardware

Two autonomus heaters, 4kW, diesel

Glass windshield with reverse angle

Windshield wipers

Tempered side windows

Sliding aft glass door

Two sliding glass hatches

Comfortable driver's seat

Reinforced driver's seat post with two-way adjustment

Wide armrest for the driver

Glove box from the passenger's side

Soft seat filling

Front convertible sofa on the left side V-Swing with a locker

Rear stationary sofa with locker on the left side

Rear passenger seat behind the driver's seat

Table in the cockpit, removable, transforming into an additional bed

Cockpit kitchen storage with sink

Refrigerator, 30l

Potable water tank, 80L, with electric water supply pump

Blackwater tank, 80L, with a pumping neck, a masserator pump and a liquid level indicator

Berths in the bow cabin

Additional hatch in the cabin

Locker under berths

Two longitudinal shelves in the cabin

Lockers for things in the cabin

Full-size ship's latrine with pumping toilet

Sink and shower in the latrine

Side shelves above the windscreen

Aluminum linings in the cabin

Carpet interior finishing

Special scratch-proof paint in the cockpit

Quintet flooring in the cabin

Soft marine vinyl interior

Suspension pedestals for seats

Opening side windows

Electrical equpment

12V Electrical network for starting battery

12V Electrical network for bow thruster

12V Electrical network for service battery

Battery switches

Auto bilge pump (electrical)

Navigation lights (Port, starboard, stern)

Anchor light

Marine horn

Illuminated stainless steel buttons

USB socket

Cabin lights

Cockpit lights

Light in the area of the galley block

Light in the latrine

Stern lights

Lighting for feet in cockpit, stateroom and aft
Aby stworzyć świetną łódź aluminiową potrzeba wysokiej jakości aluminium. Nie musimy szukać daleko - zakłady Samara Metallurgical Plant JSC 'Aronic SMZ' zlokalizowane są w naszym mieście.

Na naszych łodziach nie znajdziesz tanich drobiazgów - cały osprzęt pochodzi z włoskiej firmy Osculati S.r.l. Każdy element poddawany jest ścisłej kontroli jakości w firmie, która w 2018 roku świętowała swoje 60-cio lecie.

Silniki zaburtowe Yamaha to kombinacja legendarnej japońskiej jakości z niezawodnością. Jeśli kupisz Volzhankę z silnikami Yamaha zyskujesz dwukrotnie - przez specjalną cenę oraz jakość montażu fabrycznego".

Ciężko opisać krótko jak ważny jest niezawodny układ drenażowy na łodzi. Dlatego stosujemy rozwiązania tylko najlepszych dostawców.

Komfort na łodzi zaczyna się od foteli - często większość czasu na łodzi spędzasz siedząc. Firma Springfield stworzyła rozpoznawaną na całym świecie markę specjalizując się w produkcji foteli, stołów i podstaw do łodzi.

Włoscy projektanci są jednymi z najlepszych na świecie. Kierownice marki ISOTTA to istne dzieło sztuki.

Najważniejszym elementem składanego namiotu jest materiał. W hiszpańskiej firmie Recasens, działającej od 1886 roku, inżynierom udało się stworzyć materiał idealny do użytkowania w ciężkich warunkach morskich.

Wykładziny pokładowe na profesjonalnych łodziach z serii FishPro nie tylko muszą być odporne na wilgoś i promieniowanie UV, ale również posiadać specjalną strukturę, która zapobiega zaczepianiu się haczyków.

Dobrej jakości system sterowania jest bardzo ważnym elementem mającym wpływa na bezpieczeństwo na wodzie. Ultraflex dostarcza systemy sterowania od 1935 roku i wielekrotnie udowodnił jakość swoich wyrobów.

ROCA Industry, istniejący od 1976 roku, projektuje wysokiej jakości produkty, które są prezentowane na statkach rekreacyjnych i komercyjnych na całym świecie i posiadają certyfikat systemu jakości ISO 9001 i 14001. ROCA to szwedzka jakość i dbałość o szczegóły i dlatego wybieramy pracę z nimi.